Construction for Kids Fundraiser
As a new business in Chilliwack, Station 8050 is already getting involved in their community by supporting the efforts of the Chilliwack Optimist Club. "We are passionate about empowering people to experience something better", says Heath Stone, HHG Managing Partner, "and the Optimist Club organizers and programs have that same commitment to the youth in our community."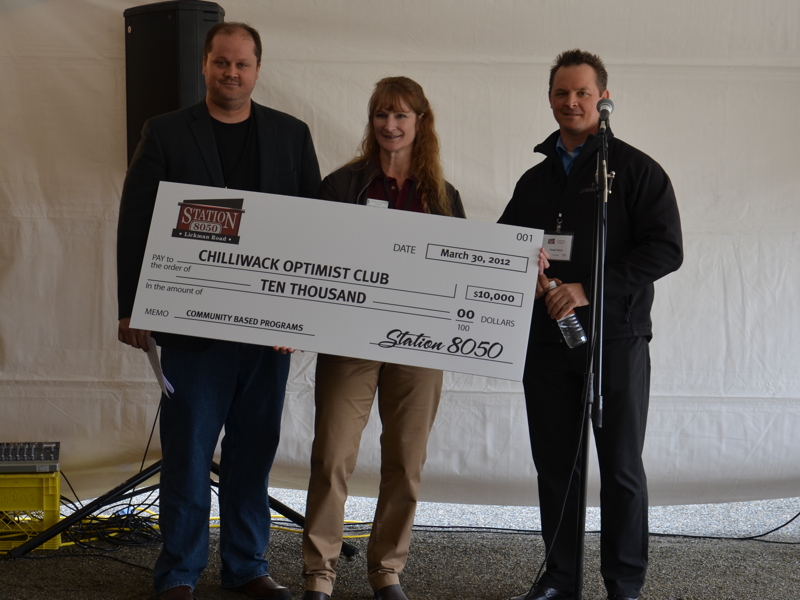 At the Station 8050 Construction Commencement Ceremony on March 30, 2012, a $10,000 cheque was presented to the President of the Chilliwack Optimist Club, Samantha Mohan, on behalf of several local vendors and service providers who participated in the Construction for Kids fundraiser. "We are very pleased that the companies working with us on the development and construction of the Station 8050 project have the same priorities and values for developing quality products, people, and programs," said Nathan Stone, Managing Partner of both HHG and Odessa.
Opportunity to participate in the Construction for Kids fundraiser is open to companies providing products and services to the Station 8050 project.
Click here to Download Information Sheet, or Email Us for more information on how your business can be part of this worthwhile program.